Update Your Cabinets With Cabinet Modifications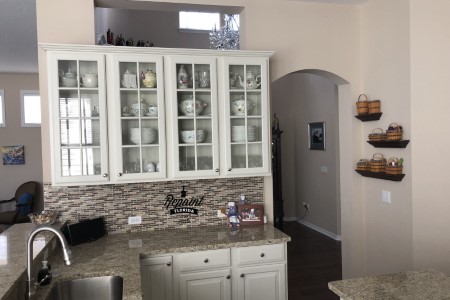 Your kitchen cabinets are an important feature in your Orlando home, serving both a functional purpose, as well as an aesthetic one. If you're ready to make a change to your home's current kitchen cabinets, but kitchen cabinet painting isn't the route you'd like to go, it's time to call the skilled Orlando cabinet painting pros at RePaint Florida so we can show you the many possibilities with cabinet modifications instead.
Are you looking for a professional Orlando kitchen cabinet painting company who can help you with your cabinet modification needs? If so, give our team of skilled professionals a call today and let us show you the kind of quality results that have helped make us one of the most trusted names in service the area has to offer.
If you're looking for a more drastic change to your existing kitchen cabinets beyond painting, but you don't want to invest in replacements, cabinet modifications can be a wonderful option. Here at RePaint Florida, our team of skilled cabinet painting pros can help you update the look of your old cabinets by removing panels from your cabinet doors, and replacing them with glass. This cabinet modification can dramatically change the look and function of your existing cabinets without a great deal of work. If you have any questions about our cabinet modification services, or if you would like to schedule an appointment for consultation, give us a call today. Our team of experts are always standing by and would be happy to assist you in any way we can.
What Is Cabinet Modification?
Cabinet modification is a great tool for those homeowners looking to create a different aesthetic with their kitchen cabinets, but aren't quite prepared to invest in new cabinets, or don't want to have their existing cabinets repainted. By taking a small panel of wood from the doors to your cabinets and replacing it with a pane of glass, you can create an interesting new looking for your cabinets as a whole, and enhance their function at the same time.
Some of the Cabinet Modifications we offer are:
Cut Out Door Panels and Install Glass (Seedy Glass is #1 seller)
Drill Holes and Install Pulls & Handles
Upgrade to Soft-Close Hinges
Convert Old Style Hinges On Outside of Door to Hidden "European" Style