Windermere's Leader In Cabinet Painting Services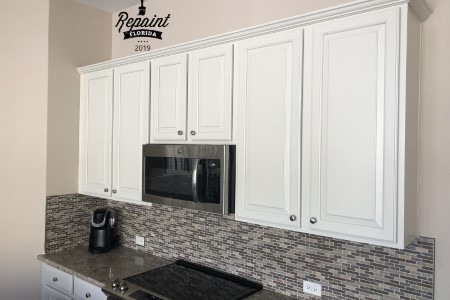 If you're one of the many Windermere homeowners out there whose kitchen cabinets have started to look a bit worse for wear over the years, but you aren't that keen on having yours replaced entirely, cabinet painting can be a wonderful alternative that allows you to revitalize your home's interior design without having to replace your cabinets entirely. As the premier cabinet painting company serving the Windermere area, our team of skilled professionals here at RePaint Florida can provide you with everything you need to revitalize your old kitchen cabinets and keep them looking as good as the day you first had them installed.
Are you looking for a professional Windermere cabinet painting company who can help you update the look of your kitchen space? If so, give our team of skilled professionals a call today and let us show you the kind of quality results that have helped make us one of the most trusted names in cabinet painting and cabinet modifications the area has to offer.
Your kitchen is a central component of your Windermere home, and your kitchen cabinets play an important role in not only the design of your kitchen space, but also its overall function. If your tastes have just changed over the years, and you're ready to try out a new look for your kitchen, or you've just never been crazy about the color of your cabinets to begin with, our team of skilled cabinet painting pros would be happy to help. If you have any questions about our full line of cabinet painting services, or if you would like to schedule an appointment for your design consultation, give us a call today. Our team of experts are always standing by and would be happy to assist you in any way we can.
Kitchen Cabinet Painting In Windermere
Your kitchen cabinets are an important feature for your kitchen and your home overall, both in terms of function and aesthetic. Styles and tastes change over time, but fully replacing old kitchen cabinets can be quite an investment when you decide to switch up your kitchen's design. Kitchen cabinet painting offers a much more cost-effective method of updating the look of your cabinets, without most of the work and cost required by replacement or refinishing.
Kitchen Cabinet Painting in Windermere, FL
It's amazing that builders are still using the same old stain style cabinets in a new home. These homeowners just paid $900,000 + for a home in Windermere, FL. The builders didn't use cheap kitchen c […]
Benefits of Moss Park Kitchen Cabinet Painting
One of the biggest expenses that goes into a kitchen remodeling job is the new cabinets. The thing is, the cabinets you already have are probably in perfect condition except that they need a little u […]
Top Orlando Kitchen Cabinet Painting Ideas
An experienced painting contractor can use different painting techniques on your Orlando kitchen cabinets to achieve a wide array of finishes. This is a great alternative to replacing your old kitche […]