RePaint Florida: Lake Nona's Premier Cabinet Painting Professionals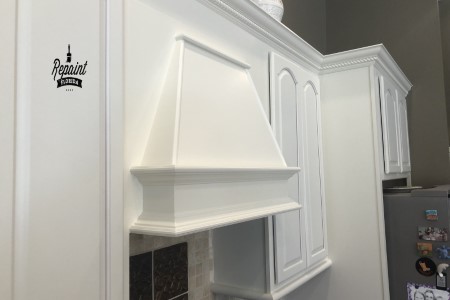 If you're one of the many Lake Nona homeowners out there whose cabinets look like they've seen better days, but you don't exactly have the money to spend replacing or having them refinished, cabinet painting might be an option for you to consider. Here at RePaint Florida, we are the premier cabinet painting company serving the area, and we would be happy to provide you with the high-quality services you need to transform the look of your home's kitchen cabinets.
Are you looking for a professional Lake Nona cabinet painting company who can help you breathe new life into your old kitchen cabinets? If so, give our team of skilled professionals a call today and let us show you the kind of quality results that have helped make us one of the most trusted names in cabinet painting and cabinet modifications the area has to offer.
Here at RePaint Florida, we provide local Lake Nona homeowners with a wide variety of different color options to help them find the perfect cabinet painting solution to fit their design needs. Cabinet painting can be a wonderful solution for those homeowners looking to refresh their interior design scheme without having to make the investing in new cabinets or refinishing. If you have any questions about our full line of high-quality cabinet painting services, or if you would like to schedule an appointment for your design consultation, give us a call today. Our team of experts are always standing by and would be happy to assist you in any way we can.
Cabinet Modifications In Lake Nona
If you're looking to change up the look of your kitchen cabinets beyond what painting can provide, we would be happy to show you our range of cabinet modification services. By simply removing one or more of the door panels to your cabinets and replacing them with glass, you can make your old cabinets look completely new, without having to actually replace them. Not only do cabinet modifications alter the design of your kitchen cabinets, but they can also enhance their functionality as well.
Kitchen Cabinet Remodel in Lake Nona, FL
The Lake Nona area of Orlando has been perfect place for our kitchen cabinet painting business. The homes are at the age that the cabinets are still in very good shape, but the style of stain used is […]
Benefits of Moss Park Kitchen Cabinet Painting
One of the biggest expenses that goes into a kitchen remodeling job is the new cabinets. The thing is, the cabinets you already have are probably in perfect condition except that they need a little u […]
Top Orlando Kitchen Cabinet Painting Ideas
An experienced painting contractor can use different painting techniques on your Orlando kitchen cabinets to achieve a wide array of finishes. This is a great alternative to replacing your old kitche […]