Your Trusted Cabinet Painting Experts In Orlando, FL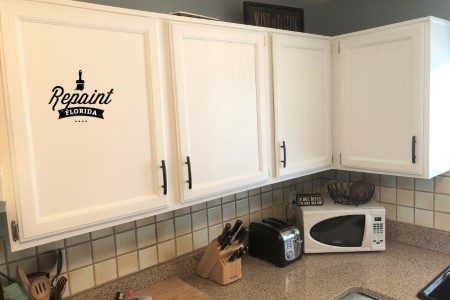 If you're one of the many Orlando homeowners out there whose cabinets look like they've seen better days, but you don't exactly have the money to spend replacing or having them refinished, cabinet painting might be an option for you to consider. Here at RePaint Florida, we are the premier cabinet painting company serving the area, and we would be happy to provide you with the high-quality services you need to transform the look of your home's kitchen cabinets.
Are you looking for a professional Orlando cabinet painting company who can help you breathe new life into your old kitchen cabinets? If so, give our team of skilled professionals a call today and let us show you the kind of quality results that have helped make us one of the most trusted names in cabinet painting and cabinet modifications the area has to offer.
Your kitchen cabinets play an important role not just in the overall beauty of your home's interior, but also the function of your kitchen space. If you love your old cabinets, but would like to update their look at bit in order to give your home's interior a bit of a stylistic update, cabinet painting might be just the tool you're looking for. If you have any questions about our full line of high-quality cabinet painting services, or if you would like to schedule an appointment for consultation, give us a call today. Our team of experts are always standing by and would be happy to assist you in any way we can.
Kitchen Cabinet Painting In Orlando
Your kitchen cabinets are an important feature for your kitchen and your home overall, both in terms of function and aesthetic. Styles and tastes change over time, but fully replacing old kitchen cabinets can be quite an investment when you decide to switch up your kitchen's design. Kitchen cabinet painting offers a much more cost-effective method of updating the look of your cabinets, without most of the work and cost required by replacement or refinishing.
Cabinet Remodel Job in Orlando, FL
This was a kitchen cabinet painting job Repaint Florida LLC completed in the Conway area of Orlando. A total of 40 cabinet doors & 14 drawers. The new color was Chantilly Lace, a beautiful white colo […]
Benefits of Moss Park Kitchen Cabinet Painting
One of the biggest expenses that goes into a kitchen remodeling job is the new cabinets. The thing is, the cabinets you already have are probably in perfect condition except that they need a little u […]
Top Orlando Kitchen Cabinet Painting Ideas
An experienced painting contractor can use different painting techniques on your Orlando kitchen cabinets to achieve a wide array of finishes. This is a great alternative to replacing your old kitche […]
Reviews & Testimonials on RePaint Florida, LLC in Orlando, FL
Jeff had the best estimate of 6 painting contractors that replied back and his wasn't the lowest price either...You have to pay for quality and experience (not something most consumers think about these days)...RePaint Florida - you got the job
Jeff and the team at Repaint Florida painted two houses for me. I was very satisfied the the quality of work provided. Not only did the team do a quality job on the painting, they also did a good job clean up. Jeff delivers more then he promises when he bids a job and provides a excellent price for the level of service he provides.

After my exterior paint was finished drying I did find a few minor spots on the garage door that I wanted touched up. Jeff showed up personally and did the touch up without any complaints or attitude. It's good to see a contractor who stands behind his promise of satisfaction.

I would like to add that I am a picky detailed oriented person and seldom fully satisfied. Repaint Florida did a great job, I would not hesitate to recommend him to anyone I know. Thanks again Jeff!