Benefits of Moss Park Kitchen Cabinet Painting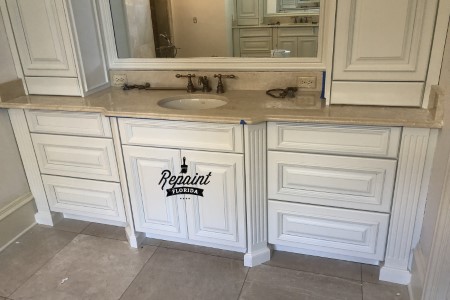 One of the biggest expenses that goes into a kitchen remodeling job is the new cabinets. The thing is, the cabinets you already have are probably in perfect condition except that they need a little updating. It could even be that you don't want to update your whole kitchen but would love to replace the old cabinets with something that feels upgrades. You spent so much on your cabinets to begin with, it seems a waste to start over.
This is where the option for kitchen cabinet painting for your Moss Park home comes into the picture. This option is becoming more and more popular as more and more homeowners realize what potential their already existing cabinets already have. So why throw away something with years if not decades of longevity left, when all they probably need is an updated look? What if you could take what you already have and make it that much more amazing?
Understanding Your Options
The start with, it always makes sense to work with a Moss Park painting contractor to take care of this work. They have the experience and expertise to handle the job correctly. This includes knowing how to work with certain types of cabinet materials and having the tools required to get the job done. You need to know exactly what is possible and what will work in order to actually get results you will be happy with.
You can also help change the look completely by using new hardware. Your handles, door pulls and even hinges can make all the difference in the world. So working with someone who understands the options and that can help you understand as well, makes all the difference in who the final results will turn out. Plus, keep in mind, this is a greener option because, by salvaging your existing cabinetry, you are not adding unnecessary waste to the landfills.
Choose the Best Team
By working with Repaint Florida you can rest assured that you are getting the finest in painting work. Our expert Moss Park painting contractors have the experience and know how required to get the job done. As a local, family owned business we even understand what it is like to want to try to work on a budget for a kitchen remodeling job but want everything to still look new and top of the line.
We take the doors back to our shop where they can be painted and dried; every last detail is covered. You will never even be able to tell the cabinets are repurposed instead of replaced. But you will know only because of the time and money you save by making the smart decision.