Top Orlando Kitchen Cabinet Painting Ideas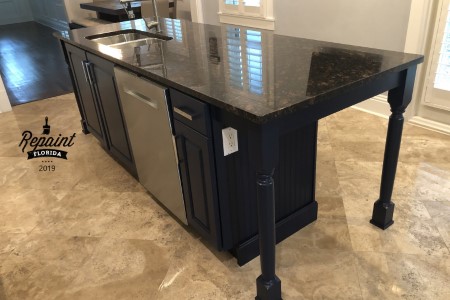 An experienced painting contractor can use different painting techniques on your Orlando kitchen cabinets to achieve a wide array of finishes. This is a great alternative to replacing your old kitchen cabinets. They can be updated to a completely new style without the expense of replacement.
Repaint Florida is an Orlando painting contractor with forty years of industry experience. We love to give our customers ideas for painting their homes, especially when the projects can help them save money on remodeling. Here are some great ideas for painting your kitchen cabinets. Remember, the more experienced your painting contractor is, the more options you'll have!
Solid Kitchen Cabinet Painting
Whether you are into a high-gloss finish or something more subtle, kitchen cabinets painted a solid color always looks chic. Some like their kitchen cabinets red-hot, some steel gray, and some antique white. Whatever your preference, it can be done with a durable paint finish. Be sure you choose the right gloss finish that compliments the appliances, countertops, and flooring in your kitchen. You don't want too much shine going on...or do you?
Painting Oak Kitchen Cabinets
If you're tired of those outdated oak kitchen cabinets, they can be painted. Popular in the 1980's, the same old boring oak cabinets can still be found in home improvement store displays today. If you have them, you know what we mean. Painting standard cabinets transforms them. You'll be so glad you did! Try a pretty dark walnut color or something that will strike up the emotion like rich cherry -anything that covers the grain and gets rid of that honey-gold!
Glaze Painting Kitchen Cabinets
Glaze painting changes the hue and texture of a surface. The cabinets are first painted and then glazed with a glaze coat which is tinted with a small amount of pigment. A professional painting contractor can create different styles by varying the underlying paint color and the amount of tint mixed in the glaze.
Kitchen Cabinet Antiquing
With antiquing, the kitchen cabinets are painted to look as if they were originally built in a different era. There are different techniques used to achieve different styles of antiquing. Some homeowners like the distressed look and some prefer a dark glaze painted or dark tinted wax antique finish.
Transforming Pine Cabinets To Exotic Mahogany Wood With Paint
The more experienced your painting contractor is, the more options you have in transforming your old kitchen cabinets. At Repaint Florida, we can us our faux wood grain painting techniques to transform your old pine kitchen cabinets into exotic mahogany cabinets. Chalk paint and dark wax can be used to create the mahogany finish. Stain can also be used to transform old cabinets to a rich, dark mahogany.