Kitchen Cabinet Painting, FL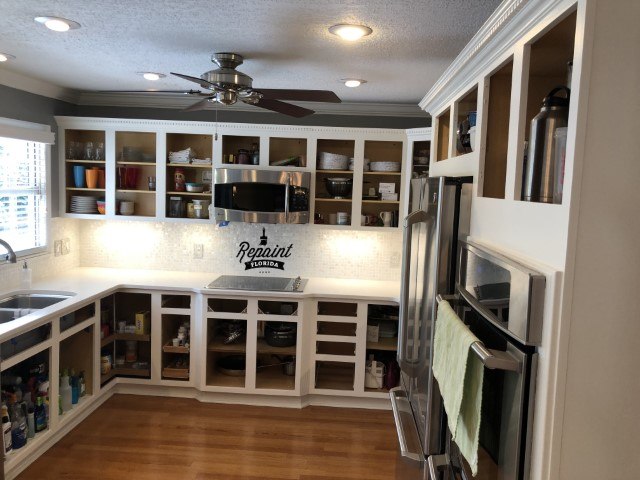 In this Belle Isle project, we had a client that still had original kitchen cabinets from 1978. The house was beautiful, and had been well kept and maintained over the years. The kitchen had new counter tops, glass tile back splash, and stainless appliances. Though, with all of this work done to it, the kitchen still didn't pop. Being that it was a kitchen open to the main living room, it needed a little make over.
We started by removing all of the doors and drawer fronts. We then took them to our shop, where we prepped and painted them. This allowed the homeowner to still have full use of their kitchen while we worked on the cabinets. The frames were degreased, sanded, and painted by hand onsite during the first day, while doors were removed. We later returned and painted two more coats, and then installed the doors.
The project went extremely smoothly, and our clients couldn't be happier!
Project Type: Kitchen Cabinet Painting
Products Used:
PPG Breakthrough
---
Benefits of Moss Park Kitchen Cabinet Painting
One of the biggest expenses that goes into a kitchen remodeling job is the new cabinets. The thing is, the cabinets you already have are probably in perfect condition except that they need a little u […]
Top Orlando Kitchen Cabinet Painting Ideas
An experienced painting contractor can use different painting techniques on your Orlando kitchen cabinets to achieve a wide array of finishes. This is a great alternative to replacing your old kitche […]