Cabinet Remodel Job In Oviedo, FL

This home in Oviedo, Fl is a perfect example of saving thousands of dollars and increasing the value of your home at the same time. Don't replace your good cabinets just for a new look. There's no need to replace your doors or to reface them, save money and call Repaint Florida LLC. This kitchen job consisted of painting a total of 19 doors and 6 drawers plus a wine rack.
Our skilled painters did an amazing job painting these cabinets giving these homeowners a beautiful new modern look for their 20 year old kitchen, saving them money and time. With our easy no hassle system we're only in your home 2 days. All doors & drawers are sprayed at our shop so that means no mess in your home. You don't even have to empty your cabinets and you can still use your kitchen.
With over 200 kitchens painted a year Repaint Florida LLC is a well known and respected paint contractor serving the Central Florida area specializing in kitchen cabinet painting. We're a local Orlando family owned company with over 40 years in the painting trade and have an amazing crew of women painters that pay attention to detail and respect your home. Fill out the "Schedule My Quote" for a free estimate and more information.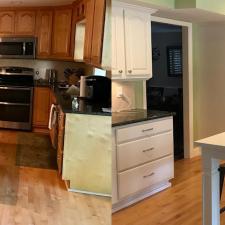 ---
Benefits of Moss Park Kitchen Cabinet Painting
One of the biggest expenses that goes into a kitchen remodeling job is the new cabinets. The thing is, the cabinets you already have are probably in perfect condition except that they need a little u […]
Top Orlando Kitchen Cabinet Painting Ideas
An experienced painting contractor can use different painting techniques on your Orlando kitchen cabinets to achieve a wide array of finishes. This is a great alternative to replacing your old kitche […]